2021 in Meteopress - Covid brought the C-band radar!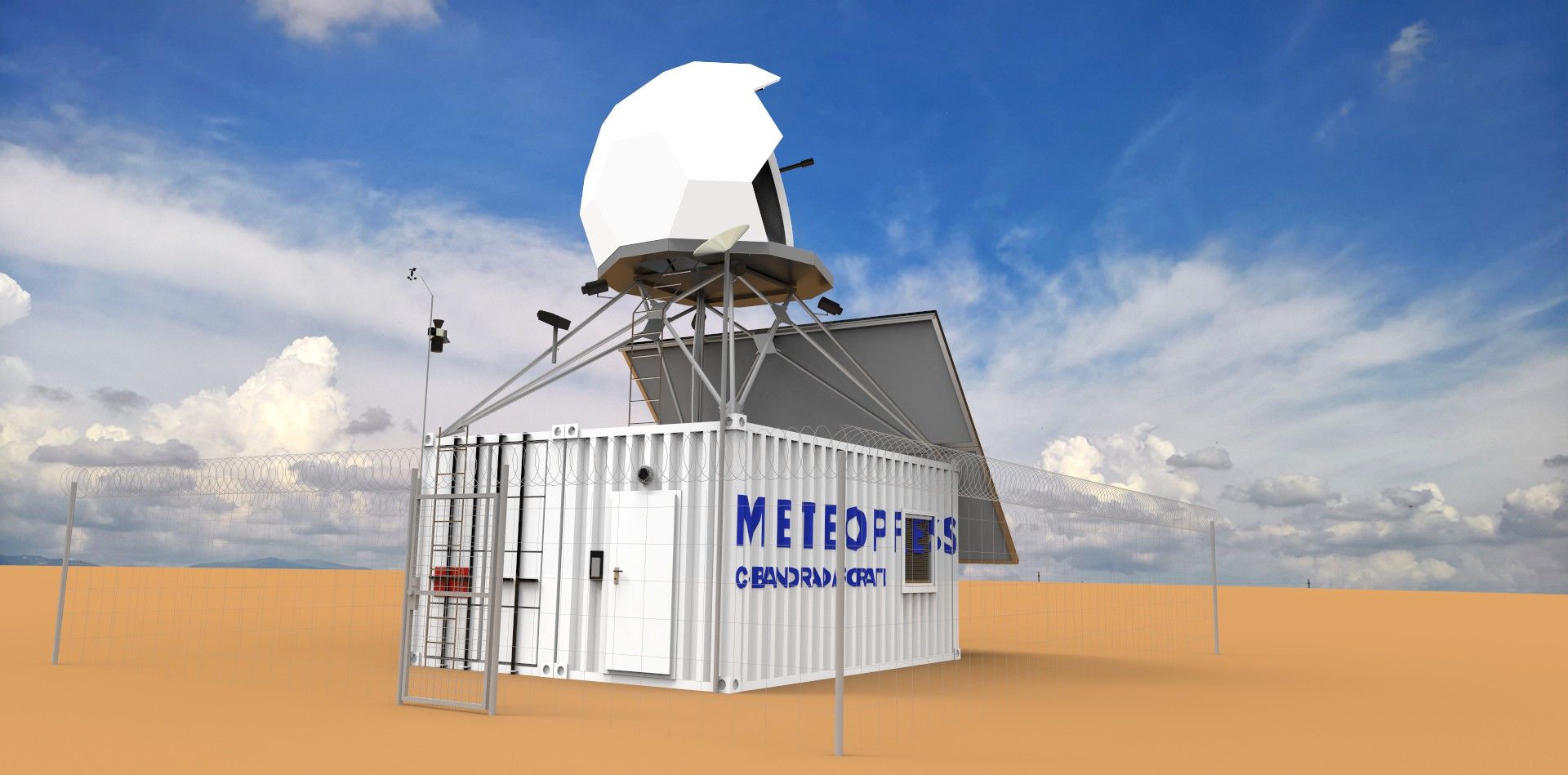 Meteopress is a meteorological company. We have been forecasting the weather since 1992. Since 2015, we have embarked on a new path: innovative, technological, honest and courageous.
2021 was a confirmation for us that we are on the right track. Although we have no firm plan, we have our work principles and we know what can be improved in the world of weather forecasting. We know where the market potential is hidden and we build the team, products and development according to these simple principles:
"Everything is possible",
"If it were easy, someone would have already done it"",
"Build-Measure-Learn",
Small team, composed of the best in the field, and leading people with a "No Rules Rules" principle.
TL;DR: What did we achieve in 2021?
We have developed a C-band radar. At a price so low, it might shake the radar market.
We have issued a precise tornado warning in the South Moravia region of Czech republic (as well as hundreds of other warnings against dangerous weather situations in the region).
We have developed, improved and implemented to live production 3 systems of AI weather prediction (Radar, Satellite, Ensemble NWP).
We welcomed several new clients and kept the current ones. We thank both these groups.
We made more money and invested all the new money into the further development of the company.
We found our 10x rule, our way how to scale the company and expand it throughout the world.
There is great interest on the international market in our radar, our AI forecasting software, and severe weather warnings. We gained more clients, we have made more money than ever before. But most importantly - the Meteopress team is stronger again, both in terms of experience and the number of colleagues.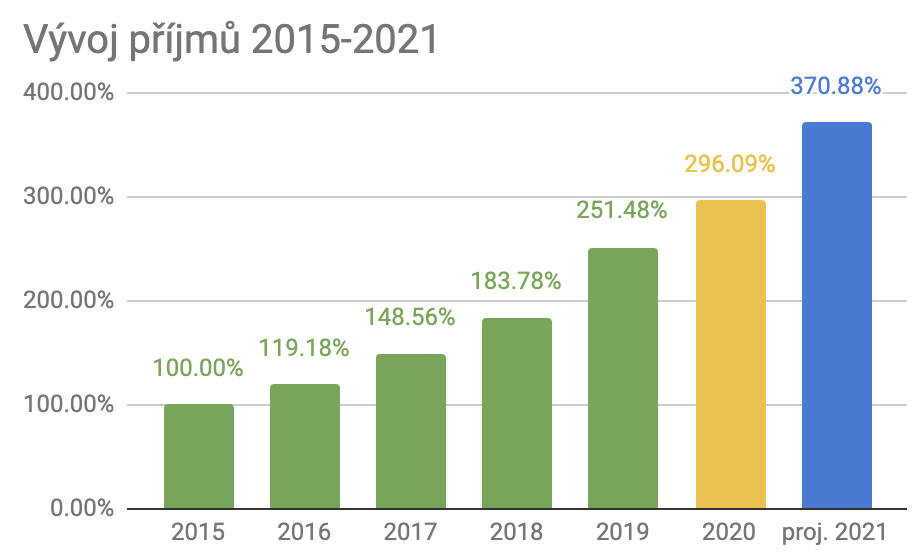 The world of start-ups and climate change have one thing in common. The so-called hockey stick, exponential, is popular in the graphs of both. We also see some correlation in our income and climate change, but even here it is true that correlation does not necessarily equal causation.
Once a year I stop and think. About what we actually did last year, what we accomplished. One is often drowned in daily tasks, a daily marasmus of urgent problems, constant inquiries and acute problem solving.
One then loses perspective and forgets to be happy.

The Revolutionary C-band radar
The C-band radar (5 GHz) is, in the words of Dr. Staudinger from the Austrian Meteorological Institute, the Rolls Royce among radars. It works much better for measuring all types of precipitation. It is sensitive and precise enough to be used operatively in most of the world and is still installable anywhere in the world. Compared to our original X-band radar (9 GHz), it has the advantage that it does not suffer from so-called attenuation, i.e. it does not go blind in heavy rain. It can also see through storms.
A year and a half ago, we started developing our own C-band radar from scratch. In 18 months we managed about 8 big iterations and changes, and dozens of small ones. Today we can say that our radar works and is ready for sale.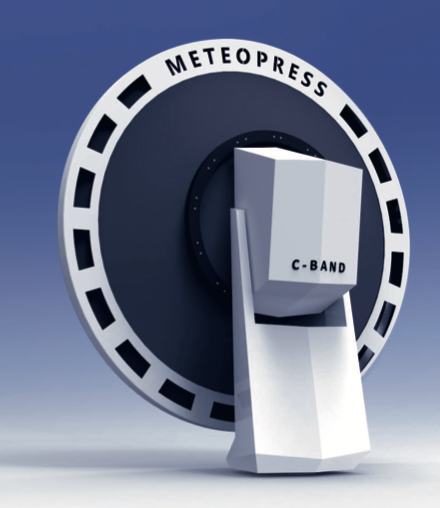 It can do everything professional customers expect from it. And then some more. For example, it does not mind interference from Wi-Fi networks.
We set its starting price at 350,000 EUR or 397,000 USD. Our best model with the largest antenna costs about 600,000 EUR. The competition sells its best from 1,000,000 Euros upwards.
Our price is definitely the winner.
Another aspect that speaks for our solution is the simplicity of our radar in terms of installation and demands on electricity, internet and maintenance. Our radar is about 10% of the financial demands after installation compared to the competition.
When competing radars are installed, the cost of the radar and its installation often climbs to around 4-5 million EUR. Our price tag is barely 25%.
RadarCrate - the easiest installation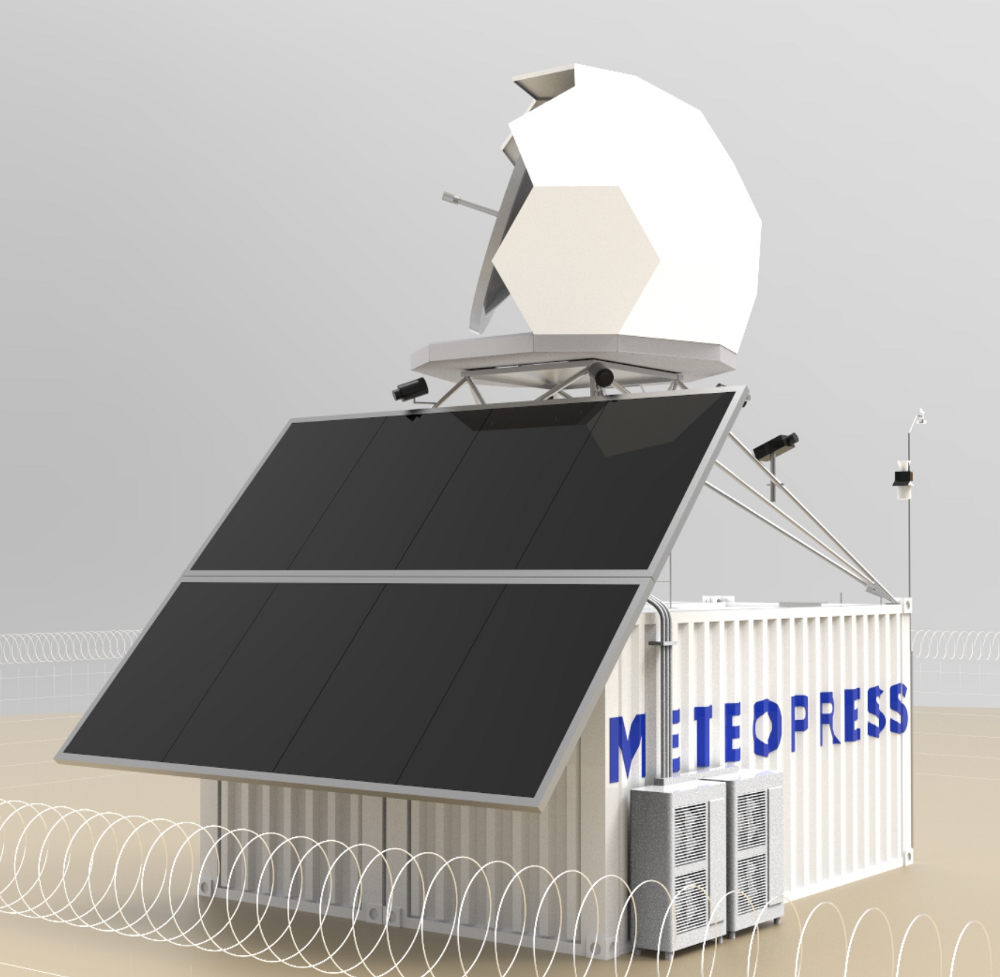 he biggest problem with the installation of a meteorological radar is, in addition to the purchase price, the installation site and its infrastructure. You need to place the radar on top of a hill.
There is often no electricity at the tops of hills, i.e. you have to build a tower on the hill and bring electricity there. With many of the competition's radars, even high voltage is required.
Thanks to the experience gained with installing more than 30 of our own small radars, we have learned a lot. In addition to low energy consumption - our radar consumes about 600 watts - we have maintained the weight of the entire 2.4m radar system at 500 kg and the weight of the 4.5m radar at about 1200 kg.
This led us to the RadarCrate project. Two containers in which we deliver the entire radar and then use them as a pedestal under our tower, as a technical room, as a server room, as a warehouse, as a backroom for technicians.
8-12 solar panels or several small windmills suffice to produce enough electricity for our operation. The battery set-up bridges overcast days. So it is not necessary to pull electricity up the hill.
We use Starlink for our internet connections, i.e. we can be anywhere in the world without being dependent on local, often unpredictable Internet.
Simple, isn't it?
So why isn't anyone else doing it?
We don't know. But now WE ARE doing it.
Installation of own radars and ZAMG
In 2021, we continued to expand and improve our radar network. It is worth mentioning the upgrade of our test location at Innocrystal located south of Prague. We now have a platform for any kind of radom there. We are currently testing a 2.4m C-band radar here.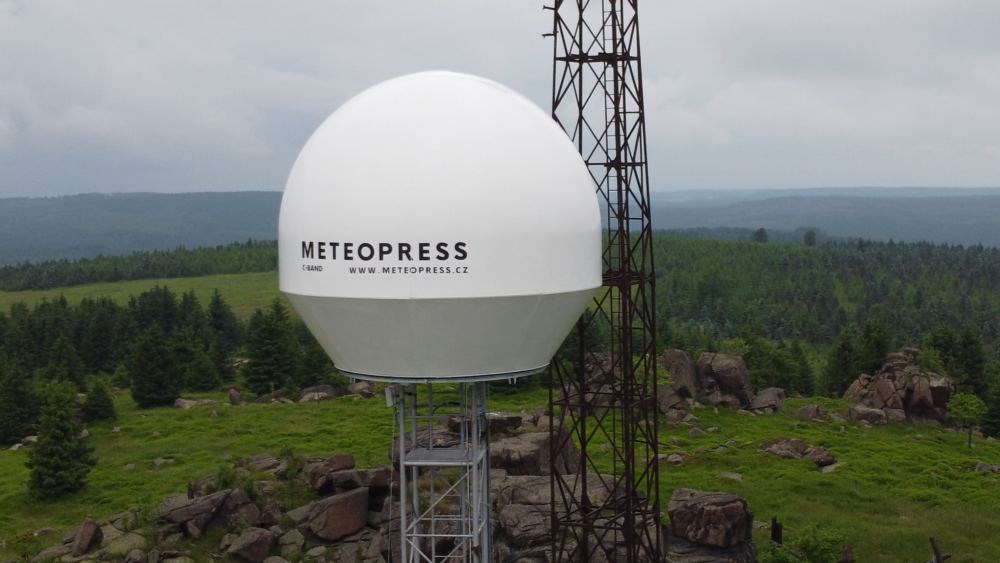 The main installation events last year wer the installations of new, large radars. One is on the Loučná hill in the Ore Mountains. This is where we have our largest radom with a size of 4.5 m.
Our second large radar is on the tri-border of the Czech Republic, Austria and Germany at Hochficht. We built it along with the Austrian Meteorological Institute ZAMG.
The third new radar is at the Armogroup hall near Brandýs nad Labem.
We also enlarged and improved our radars in Czech Republic in Znojmo, Lučenec, Pilsen, Jihlava and Reichersberg in Austria. We have also prepared them all for better inner components - new C-band or X-band radars.
The plan is to have the best radar coverage in the region before the next storm season.
Tornado
In the middle of 2021, exactly on June 24th, a tragic event hit South Moravia. A destructive tornado with a force of up to F4 killed 6 people, causing damage of about 30 billion Czech crowns.
I must say that our overall handling of the tornado situation filled me with an unspeakable sense of satisfaction and pride. Our meteorologists started consulting about this situation several days in advance. On that morning, our meteorologist Miloslav Staněk drove to the place in question. He recorded the whole tornado and communicated with colleagues in Prague, who watched the event from our headquarters.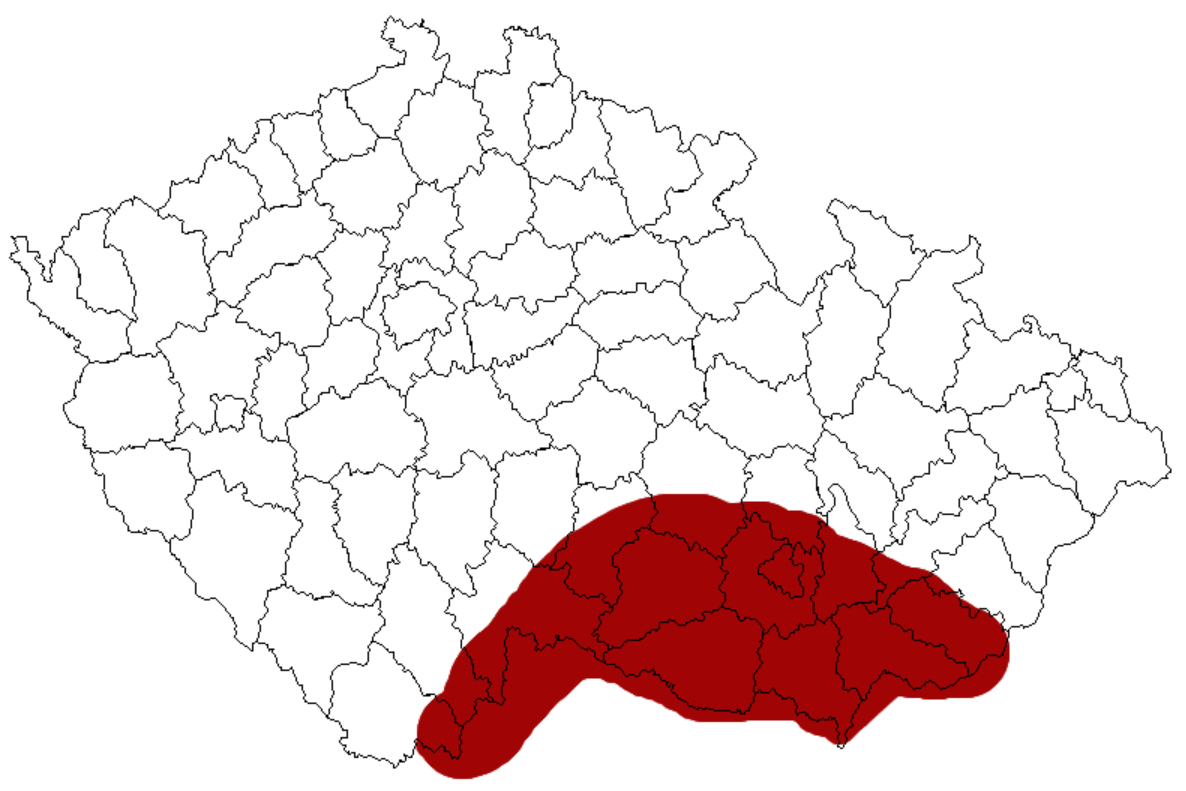 Our MeteoAlert warning, which we have been delivering to insurance companies and its clients for over 6 years, was issued by another one of our highly experienced meteorologists before this particular situation. It was issued at 16:45, i.e. 2.5 hours in advance, directly to the soon-to-be-affected area.
Other colleagues reported on the event throughout. The first photo of the tornado appeared on our website at 20:20, i.e. about an hour after its contact with the ground. We used live reports from the site from observers in our storm chasing Facebook group.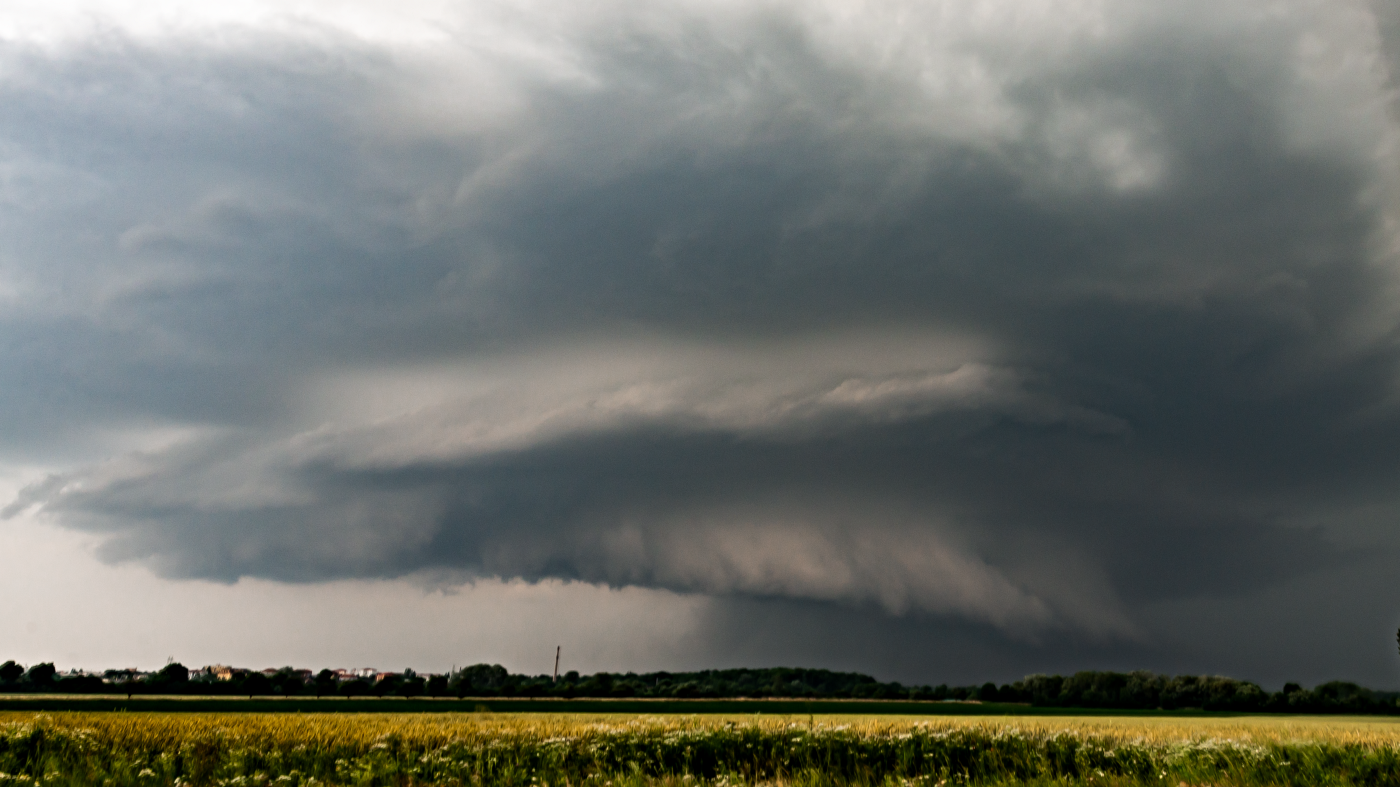 On the same day, we published an article about the event, and the next day we conducted an on-site survey and damage classification. Our meteorologist then became the co-author of the official tornado report. It was done in cooperation with Czech national met service, which was the first official cooperation in a long time.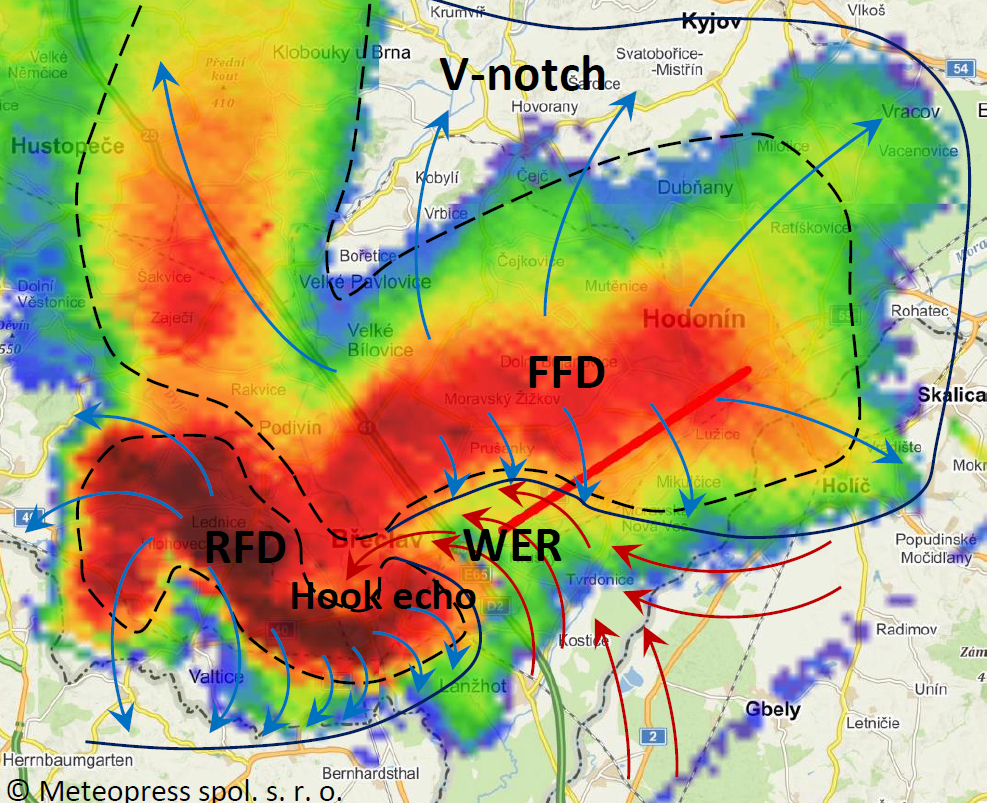 Awakened interest and new clients
Public interest turned to the weather at that time, and we found that it was not only insurance companies that were interested in our warnings. We immediately established cooperation with the agile management of the South Bohemian Region, and 10 days later we launched a warning service to the regional management in a pilot program. Negotiations are underway with several other regions, and I believe that next year other Czech citizens will be protected by our warning system.
We also managed to add other clients from the ranks of insurance companies - the Slovak Kooperativa and the insurance companies AXA Czech Republic and Slovakia. They joined the already existing loyal clients, UNIQA CZ and SK and the Czech Kooperativa.
The loyalty of our clients, whether from insurance companies, media or energy, makes me happy. I believe that in business it is necessary to pay attention to decency and relationships.
Artificial Intelligence
An area in which we are one of the strongest in the world and unfortunately we talk little about. Our small internal team has done great things.
We have improved AI radar prediction, currently defeating all of the competition's methods. By a mile. We compared the predictions of 3 national meteorological institutes, and the improvement over their methods is in the order of tens of percentages (from about 25% to 43%). Today, our system is being tested at the Austrian Meteorological Institute.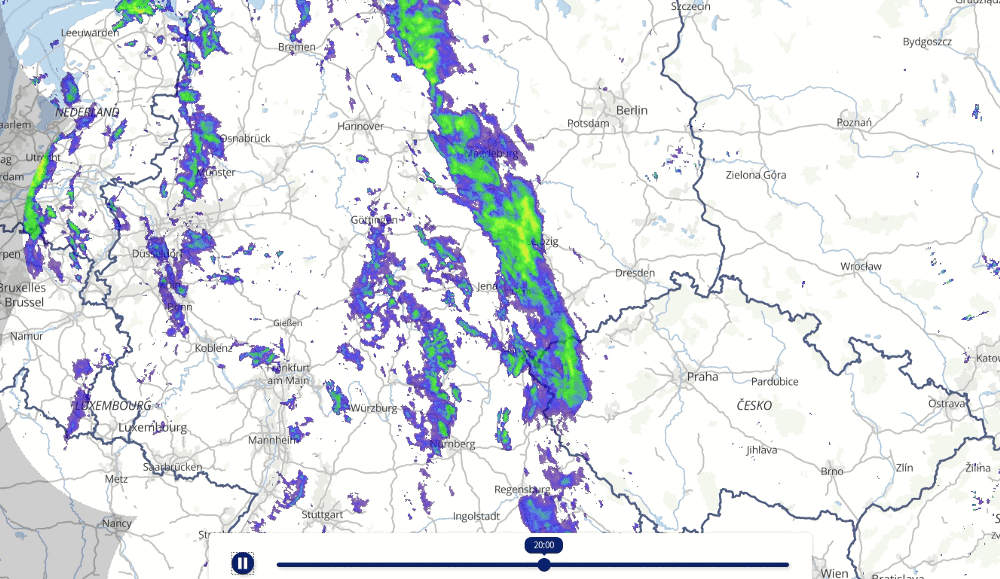 We are now working hard to improve our short-term forecast. We do this by processing the outputs of numerical models (so-called ensemble postprocessing) using neural networks. We plan to launch this operationally for internal use this year.
We were perhaps the first in the world to launch satellite image prediction using neural networks. It works beautifully, so we will start offering it on the market this year. This is the only accurate forecast for cloud coverage, which is especially useful for solar energy traders.
New opportunities
Our ever-strengthening position on the market was also reflected in the opening of new doors to potential, previously unexpected clients. The business model of the partnership with the Austrian Meteorological Institute attracted the attention of the WMO, the World Meteorological Organization, thanks to which we presented our products and results of cooperation to representatives of 60 "European" countries at the conference. The main topic was partner business models and our business concept Radar As A Service.
The World Bank invited us to a workshop for sub-Saharan Africa. Our RadarCrate container solution was particularly of interest there.
2022 and beyond?
What is our firm plan for 2022, 2023 and beyond? It is not set in stone. As I wrote at the beginning of this text - we follow principles, we have confidence in our abilities and we are ready to fight for opportunities.

Today, dozens of countries around the world are interested in our radar.  We plan to attend all major weather fairs and tradeshows. Come meet us there.
Nelson Mandela said one thing: "I never lose. Either I win or learn." We have been unknowingly following this motto for 6 years and it works exactly, to the letter.
Meteopress will celebrate 30 years this year. I believe that I will live to see at least double that number of years of Meteopress, and that it will be a wonderful ride.
We wish you all the best for 2022.